Just last week, Philippe Chow – the high-end + well-known Chinese cuisine restaurant chain – held a grand opening for its new Beverly Hills location on Wilshire Blvd. Due to a previous obligation, I, unfortunately, wasn't able to attend the fabulous ceremony attended by heavy-hitter celebrities such as Kevin Kart, but I can't say that I was too saddened by it. After all, I'd already had the pleasure of dining in the fine establishment two weeks before the grand opening; so I guess you could say I got the "scoop" on them. :)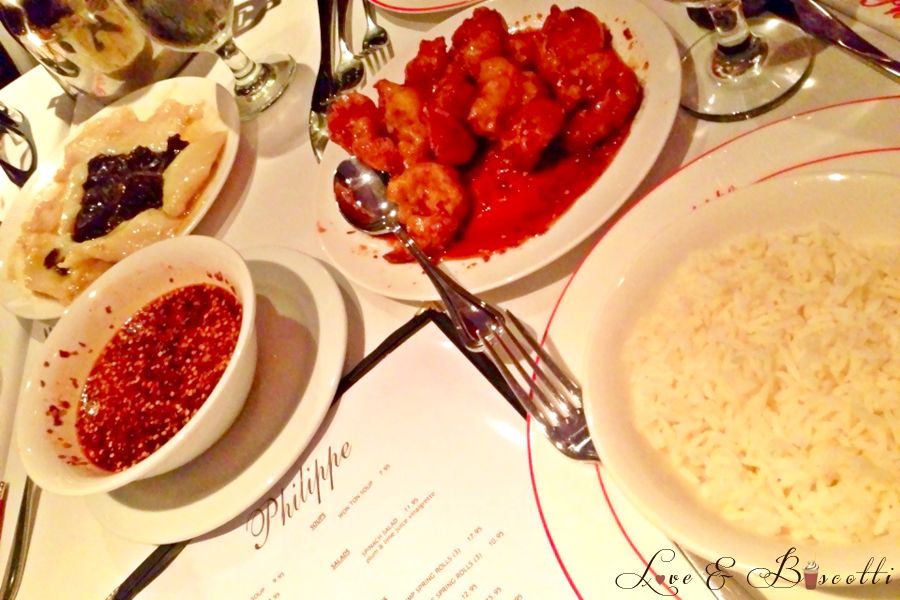 It all happened the same night as Jackie's "Tequila, Trinkets + Totes" party. I met up with two new friends – Sir James Royale and Isiah David – and we decided that after all of the shopping and tequila, we were quite hungry. James just happened to know Yolanda, the owner of the new Beverly Hills location, and even though it was already pretty late, she held the kitchen open for us until we arrived.
I'm kind of ashamed to say that I had never been to Philippe Chow's (ever) – not even the old location on Melrose Ave – so I didn't know what to expect. I had heard great things about it, but I was eager to check it out for myself.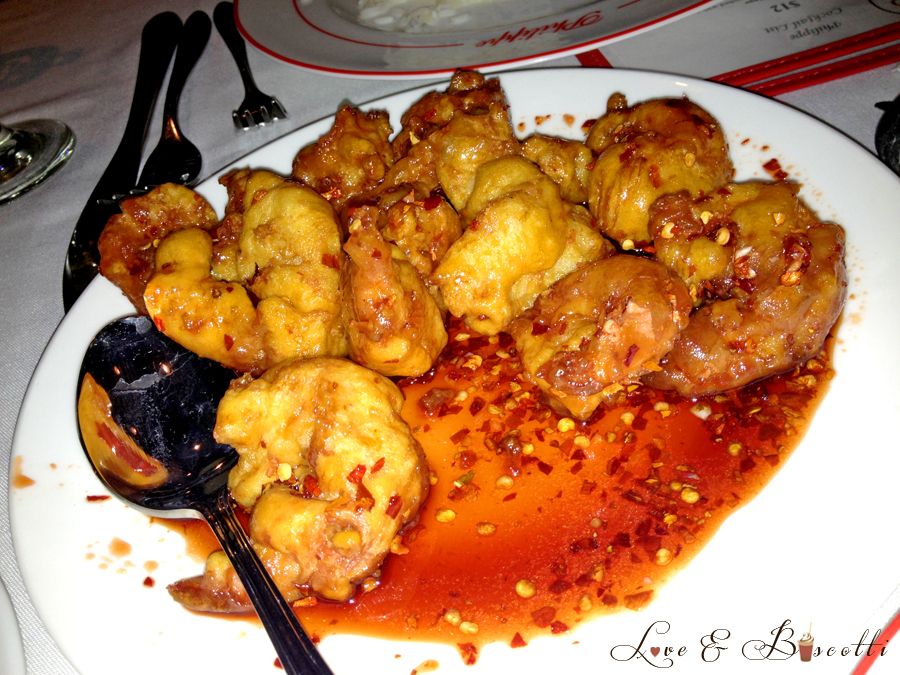 9 Seasons Spicy Prawns
When we got there, we were led down a long red hallway and into a room where tables were spaciously spread throughout the floor – and seated in a booth in the corner. I paid close attention to the proximity of the tables because one of my pet-peeves is being squished into booths where the party next to you can hear your entire conversation. So that – right off the bat – was a plus. It was intimate but the way the tables were strategically placed, you still felt like you had a lot of privacy. In fact, while I was there, I saw Sean Kingston and his crew enjoying the sanctity of a corner booth – undisturbed by other guests.
Editor's Note: I was the set director for Sean Kingston's cover shoot with Pure DOPE Magazine about two months ago. Click *HERE* to check out the Behind-the-Scenes video.

Me, Isiah David + Sir James Royale
As for the menu, everything looked promising, but I am a sucker for spicy foods and so I immediately went for the "9 Seasons Spicy Prawns" which boasted of "chef Chow's famous spicy sweet + sour sauce." I also ordered a side of rice to go along with it.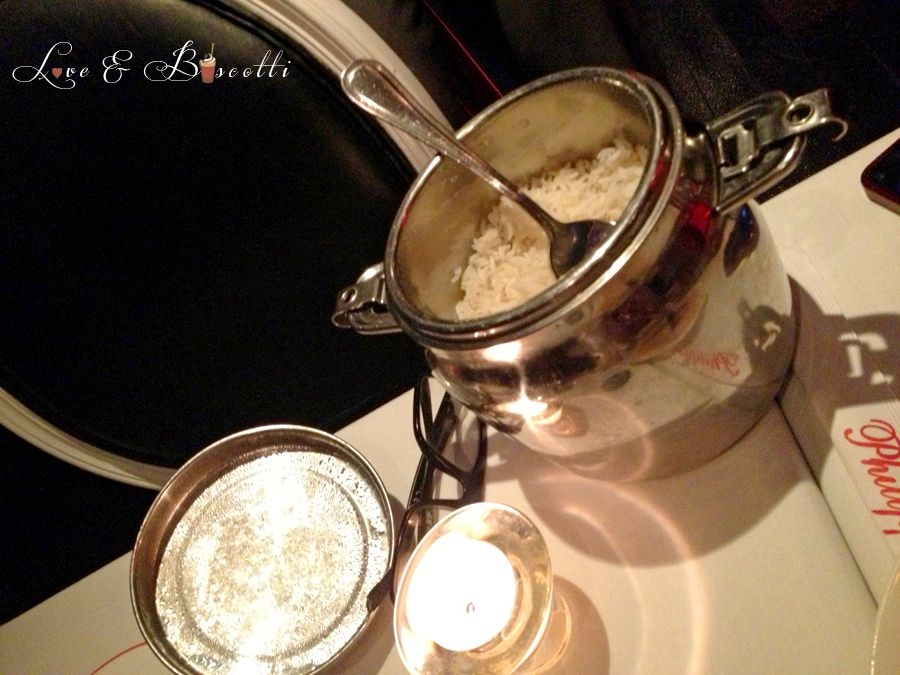 When the food came – which was pretty quickly – I immediately dug in and was not disappointed! The prawns were amazing! The only thing that could have made my meal better was a side of vegetables to compliment the rice and meat. The prawns and rice were filling – definitely – but some kind of steamed vegetable would have added to the experience and made the entree more of a "meal."
Afterwards, I couldn't resist ordering dessert and my friends and I had a hard time just deciding which of them to order. All of the options looked good so we decided to share a couple of desserts so we could all have a taste of each. We ordered two slices of the pineapple upside-down cake and one of the red velvet. The red velvet cake was good, but the pineapple upside-down cake was really over the top! It was delicious! Probably the best part of my meal… and night.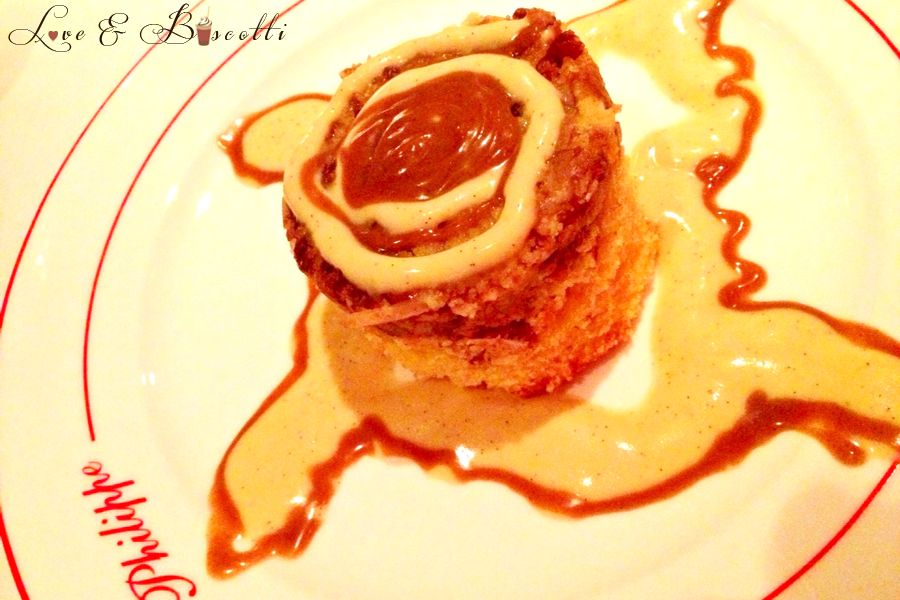 Pineapple Upside-down Cake

Sir James' "Drunken Sea Bass"
Overall, I was very happy with the food at Philippe Chows – and the service. Yolanda and her sister came over intermittently while we were eating to make sure everything was going okay – and over server was very nice too. I got a very warm vibe, almost like family, from them, and I really appreciated the complimentary desserts (red velvet cake + …) that Yolanda bestowed upon us. I would definitely recommend visiting this restaurant, and may even become a regular. Ciao!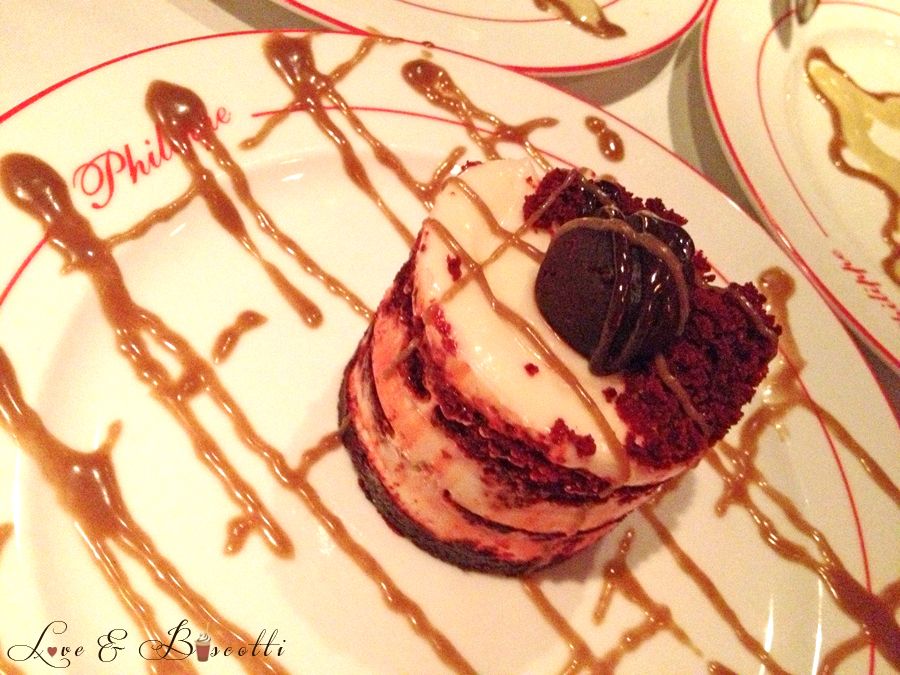 Bella's Bon Appétit Rating: 9/10
Philippe Chow, Beverly Hills

8620 Wilshire Blvd
Beverly Hills, CA 90211
Website: http://www.philippechow.com