Reality T.V. isn't something that I generally cover or write about on Love & Biscotti, but last week I got the chance to meet and interview someone whose music I have been rocking with ever since she first debuted on Roc Nation with her song, "Make Her Feel Good."

Teairra Mari on the blue carpet at the premiere of "Love & Hip-Hop Hollywood"
You may recognize her from being a former cast member on VH1's Love & Hip-Hop New York, but this season R&B songstress, Teairra Mari has a storyline all her own as she heads the cast of super-producer, Mona Scott's new brain-baby, Love & Hip-Hop Hollywood. In this shadowy world of glitz and glam – and smoke and mirrors – VH1's camera crews follow Teairra and cast-mates Ray J, Omarion, Lil' Fizz and Soulja Boy (and many more) as they navigate the streets of my hometown and share some of the most intimate and personal details of their lives with the world.
Now, as stated earlier, I don't cover reality T.V., but what appeals to me about shows such as this one are the raw, unkempt and uncut emotions that are revealed by the cast-mates as we watch (spellbound) week by week. While we may not experience the same exact type of drama, what connects us to these characters is the fact that no matter what level of fame or fortune one may achieve, no one is above experiencing the same angst, heartbreak, depression, anger, happiness and sadness as the rest of us. And while Teairra's brash outspokenness and witty one-liners may be initially label her as the Joseline Hernandez of the group, I have a feeling that there is much more depth to Teairra than what first meets the eye. I hadn't planned on doing any interviews at the exclusive premiere of LHHH (held at Inside Jokes Comedy Club inside the historic TCL Chinese Theatre in Hollywood), but after running into Teairra in the elevator and then bumping into each other again after the show's screening, I felt it must have been fated to be.
Read below to find out what Teairra most regrets during the show, what she's over the most and of course, what designer she wore to the premiere:
Bella: Hey beauty. We met very briefly in the elevator and now here we are again.
Teairra Mari: Nice to meet you again too.
Bella: I've been a fan of your music for a long time now, but I never got a chance to catch you on Love & Hip-Hop New York. However, after watching the season premier of this new show (Love & Hip-Hop Hollywood), one of the things that really stood out to me is how open you were. Wearing your heart on your sleeve and admitting that you're still in love with someone showcases that you're not afraid to be vulnerable. Was that difficult for you to do or are you just naturally open with your feelings?
TM: Well that's where I was at that moment and you know, now I'm not there anymore. Still its hard to watch that because I'm not there anymore but when I was there, I was in it.
Bella: In general, are you usually the type to say whatever comes to your mind?
TM: I'm like that when I'm in that moment. When I'm at that point in my life where I'm like okay, I'm going to give my all to this person, yes absolutely, I'm like that. But when I'm over it, I'm over it. This show was shot months ago and that was just something that I had to relive.
Bella: Now that you've seen yourself (on the show) for the first time, what do you think is the main thing – or moment – that you're going to be so over yet people keep asking about?
TM: I think everything that has to do with Ray J and his girlfriend are going to be the main things that I'm like, OMG I have to relive this shit and I don't want to cause I'm over it.
Bella: Do you regret any of it?
TM: I don't regret anything that has to do with Ray or his girlfriend, I regret something that I did with a promoter; his name is Sincere. I really regret how I turnt up on him but other than that I don't regret anything.
Bella: What is your perception of love in the industry or more specifically in the public eye? It's not just you and the person in the relationship, it's everybody's outside perception as well? How do you deal with the opinions of other people?
TM: It's hard but it's definitely something that you have to take a look at because I don't know, I always take a look at myself. I always say you know, maybe I shouldn't have done this or maybe I shouldn't have done that but for me, its like at the end of the day I did what I did from the depth of my heart and however people look at that, that's just how they will get it.
Bella: Music wise, what's next for you?
TM: I have a single that's going to be portrayed on the show and I'm so excited about it because I really get to go through all the emotions that everybody sees in the first few episodes. Like okay, Teairra, you went through all this stuff and now you get to tell your story. I finally get to tell my story through songs and I'm so happy about it and I think I'm gonna end up at a great place.
Bella: Well I'm routing for you and I've been routing for a long time.
TM: Thank you!
Bella: Before I let you go, as a fashion blogger, I can't skip over this outfit that you have on. Who is the designer?
TM: The designer is Avahna.
Bella: And your favorite lip color?
TM: My favorite lip color is probably the one I have now. "Lady Danger" by MAC.
Check out the video recap from the exclusive launch below:

And WATCH the full first episode of Love & Hip-Hop Hollywood here:
http://www.vh1.com/shows/love-and-hip-hop-hollywood/love-amp-hip-hop-hollywood-episode-101-la-la-land/1730883/playlist/#id=1730883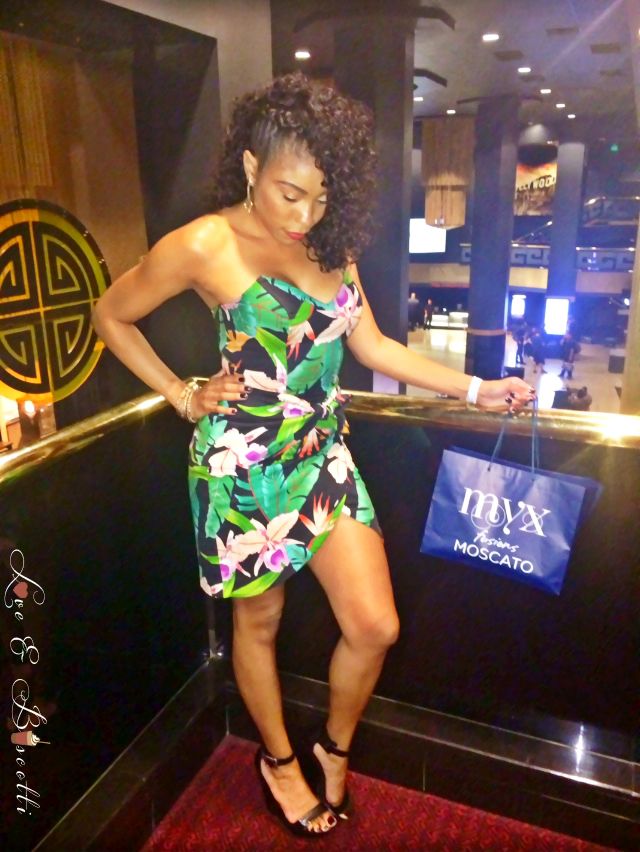 Thanks to 135th St Agency and MYX Fusions (who sponsored the event) for my swag bag!