In my early twenties, the amount of time I spent with my girlfriends was probably akin to that of a Siamese twin. We attended college classes, studied, and partied on the weekends (and some weeknights) together, as well as hosted kickbacks, and even double dated with hot sets of friends. Unfortunately, as we've gotten older, and the responsibilities of life – i.e. careers, husbands and babies (not me, not yet!) –have taken prominence over "girl-time," we haven't been able to catch up as often. Occasionally, my friends who work in Fashion, Beauty, Lifestyle and Entertainment and I will run into each other at events, but it's a bit harder to coordinate with my best friend who's an RN.
However, last week, as I was watching one of my favorite T.V. shows (American Horror Story), I had an epiphany: Why not gather my gal pals for a weekly screening party at my house?! Everyone can come as they are – still in work clothes or even in theme (kidding) – and I'll have delicious, healthy and easy-to-make foods to snack on.
For my first screening party, I plan to make a variety of easy, healthy and delicious appetizers – and since Fresh & Easy recently introduced a few new Wild Oats products under the Wild Oats label, I've decided to scoop up a couple.
Scroll down to check out two of the Wild Oats offerings that I'll be serving at my party. Both are available at your local Fresh & Easy store. Click here to locate one in your area.
Wild Oats Organic Margherita Pizza (not pictured)
Made with fresh mozzarella cheese, tomatoes and kale pesto sauce, this pizza is the perfect snack for both my meat-eating and vegetarian friends. To make the most of the pizza, I'll probably slice them into tiny squares for finger-food-like bites. At $8.49, the price is great and perfect for a low-key night.
Wild Oats Organic Mediterranean Veggie Wraps (not pictured)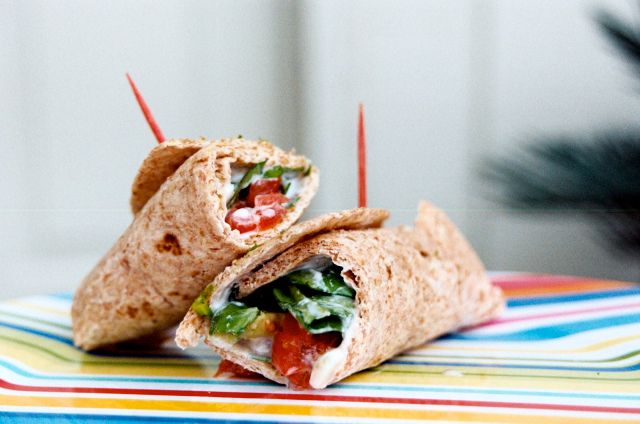 Image courtesy of Food à la Fac
Containing beans, red lentils, roasted bell peppers, and a basil pesto sauce wrapped in a whole wheat tortilla, these veggies wraps are delicious – and affordable! For $4.99, I can get 3-4 of these tasty babies, cut them in sections and voila – instant snack!
I'll probably wash these tasty offerings down with wine (my drink of choice), and I can't wait to indulge and snack with all my girls for the next American Horror Story: Freakshow episode!
Feel free to leave comments about additional appetizers that would make a great round out for our girl's night!
For more on Fresh & Easy visit http://www.FreshAndEasy.com/
For more on Wild Oats, visit http://WildOats.com
*This is a Fresh & Easy sponsored post